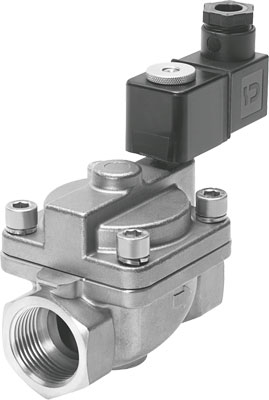 Images are representative only. Please verify with our technical experts as actual product may differ.
Manufacturer Model #: 
1489984
SOLENOID VALVE VZWP-L-M22C-N1-250-2AP4-40 SERVO-CONTROLLED, WITH PISTON, NPT1" CONNECTION. DESIGN STRUCTURE=PILOT-ACTUATED PISTON POPPET VALVE, TYPE OF ACTUATION=ELECTRICAL, SEALING PRINCIPLE=SOFT, ASSEMBLY POSITION=COIL PREFERABLY ON TOP, MOUNTING TYPE=LINE INSTALLATION
Cad link: 

https://www.festo.com/cat/en_us/DKI3WebCAD.asp?part=1489984

Group description: 

Solenoid valves VZWP

Group name: 

Solenoid valves VZWP
If your product requires a quote for pricing, you can add to your cart and submit a pricing request at checkout. Our team will contact you to provide pricing.
NEED SUPPORT ON A QUOTE?
Contact us and we will have a member of our team contact you to build a quote for your application needs.