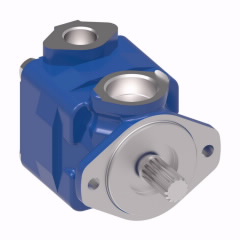 Images are representative only. Please verify with our technical experts as actual product may differ.
Application: 

Oil and Gas, Metal Cutting, Dump Truck, Wheel Loader, Plastic Injection Molding

Displacement: 

22.8 cubic centimetre per revolution

Flow Rate: 

64.27834368 litre per minute

Flow rate12: 

64.27834368 litre per minute

Front outlet port position cover end view: 

INLINE WITH INLET PORT

Icc2: 

Hydraulic - Vane Pumps

Minimum speed: 

1800 revolutions per minute

Model Code: 

V20-1P7S-1C11

Product material: 

Cast Iron

Product trade name: 

V10 and V20 Series

Product weight uom: 

pound

Working pressure max: 

172 bar
If your product requires a quote for pricing, you can add to your cart and submit a pricing request at checkout. Our team will contact you to provide pricing.
NEED SUPPORT ON A QUOTE?
Contact us and we will have a member of our team contact you to build a quote for your application needs.